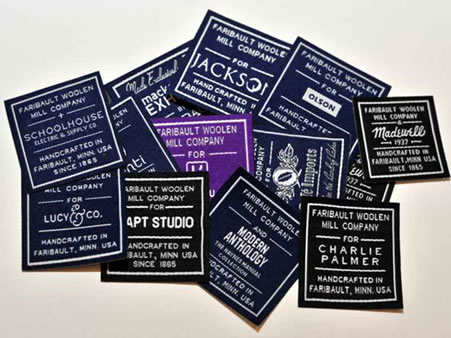 Custom Woven Labels
Woven Labels Will Give Your Products the Professional Look You Want
They are that final touch that completes all your hard work and your attention to details: those little tags are the first thing people look at when the grab your product from a display.
Get Your FREE Quote Request
Want to Find Out More About Woven Labels?
When you are looking for a way to take your products to the next level, you think branding. And in the world of apparel and accessories, there is nothing more than will convey 'professional' as a woven label.
Get Your FREE Quote Request
What Makes Our Woven Labels So Special?
They are soft and smooth to the skin.
Their edges are heat-cut (or heat-sealed) so they won't fray.
Can be made in practically any height and length, custom made to fit your product.
Use up to 12 thread colors, you will be free to use as many colors as you need.
Made with polyester threads, for lasting, bright colors.
Multiple Fold Styles available: no-folds, centerfold, end-fold, mitre fold, gives you versatility.
I received the labels today, they are perfect! Thank you so much. Hopefully I'll be reordering soon!"


Connie Z.,

Second Chance Couture
Damask Label - Centerfold
Premium Certified - Red & Cyan Woven Label
Damask Label - Straight Cut
A beautiful label with Vegas gold text on a white background
A small woven tag for children's products
Our customer from Norway needed a small woven label for their product line.
A Black & White Combination
A medium size damask label with the classic two-color combo.
Woven Labels Kolea Designs
I don't order that often, but my info was still on record and the customer service agent that I worked with was so helpful. Quick to reply to my inquiry and incredibly helpful. Plus what I ordered was PERFECT.
Diamond Life Studio Woven Label
A bold black design in a white background.
A woven label for amazing retro dresses
The famous Bernie Dexter label chose our damask labels for their Made in USA products.
A small label for medical devices
It's Gilbeau Woven Label
Tiari Gilbeau ✨Mompreneur✨ QUALITY HANDMADE MADE TO ORDER PIECES✂️Made to order Founder & Fashion Designer
Click Here to See The Complete Woven Clothing Labels Gallery
What are your options?
Pricing for Woven Damask Clothing Labels
Packages

Average Size

1″
1.5″
2″
2.5″
3″
Starter

100pcs.

$145
$155
$165
$175
$195
Small Biz.

250pcs.

$167
$195
$210
$220
$235
Professional

500pcs.

$210
$220
$250
$275
$300
Champion

1000pcs.

$330
$345
$355
$370
$395