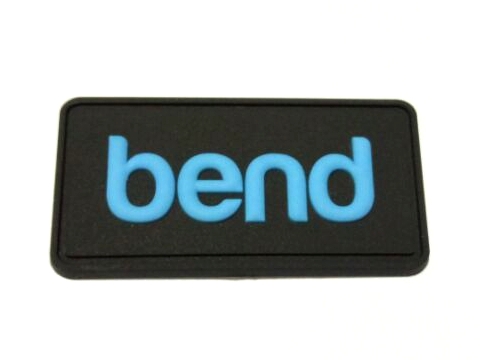 This is a great example of a high contrast design for 3D PVC labels. If you want your brand's name stand out from the background follow this rules taken from the ICITA website, according to them:
"A contrast ratio of less than 3:1 is considered poor contrast for readability.
A contrast ratio greater than or equal to 3:1 but less than 7:1 is usually considered acceptable for readability.
A contrast ratio greater than or equal 7:1 is considered ideal for readability.
Other factors such as font family and size also are important in the readability of text content.
The use of textured backgrounds and background images generally reduce readability and text contrast.
Contrast ratio calculation from WCAG 2.0
Formula: (L1 + 0.05) / (L2 + 0.05), where
L1 is the relative luminance of the lighter of the colors, and
L2 is the relative luminance of the darker of the colors."
The applications of PVC labels goes beyond backpacks and outdoors stuff… they have so many uses.
Our customers at Bend Labs love them as well,  just take a peek at one of their products, a VR glove.
---
About Bend Labs
Their Mission Statement is Simple:
To Bring Real Time Movement to the Virtual World
Our Inspiration is the Virtual World
And Our Goals are similar
To Build the World`s Best Virtual Reality Glove
They have been in business for about 4 years now
Their upcoming projects are to build the first and best Virtual Reality Glove in comfort, design, durability, and functionality.
People can find out about us and watch demo videos at bendlabs.com

---
About Working with Linx Corporation
"Our experience working with you was great. I love all the communication and your team is really precise in making orders right the first time. Which is important when working with molds. I wasn't really sure how long it would take to get my custom made PVC labels made, but they came earlier than I expected. Anytime I had questions I could just email Linx and my emails were answered that very day. I already re ordered more labels and look forwards to working with Linx for all our label needs."
Arianna – Bendlabs.com
Customer Reviews
4.7/5 – Based on 23 Reviews

out of

5

stars
07/10/2019
Working with Becky Liuchan made the whole process very easy. This was my first time ordering product labels and I'm very satisfied with the way the labels turned out. I'm excited to sew them to my product. Thanks again!
PVC Labels

out of

5

stars


06/06/2018




Becky's customer service paired with the quality of the product is what keeps me coming back to Linx Corp over and over again. Becky is responsive and she gets the art department to do exactly what I want, and then Linx Corp delivers a product that is terrific. I wish it went a little faster but it's not enough to keep me from returning to linx corp every single time I need more or new labels.

–

PVC Labels
5

stars out of


06/05/2018




Victoria had great communication with us and made sure that our label design was correct. Smooth and easy transaction and the final PVC label came out like we wanted.

–

PVC Labels