Printed Clothing Labels
Printed Labels are perfect for designs with small details or gradients.
Printed clothing labels are able to achieve those tiny details that woven threads cannot.
The printing is very durable. The most common base material is white satin, although we also offer poly satin blend, heat seal polyester, tyvek and more. As each option has its own advantages and limitations it is best to discuss your ideas for your personalized printed fabric labels directly with one of our sells representatives.

Printed Fabric Labels Types
There are many types of custom printed fabric labels.
Here you have some of the most popular ones. See More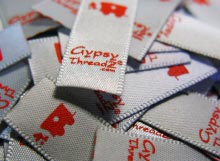 Heat Transfer Labels
Logo Labels without tag  great for those who want to brand their products and prefer the no-tag approach.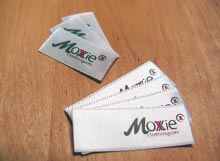 Satin Labels for Clothing
Printed Satin Clothing labels are from far away the most popular type of printed label we offer. It's our customer's option number one.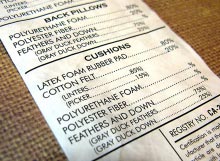 Tyvek Printed Labels
Tyvek Tags are quite strong and long lasting, they are weather resistant, waterproof and tearproof.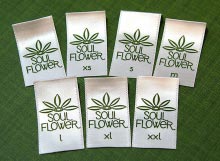 Satin Ribbon Labels
When people look for printed labels for clothing, they often ask for a cost-effective option. This is an excellent one!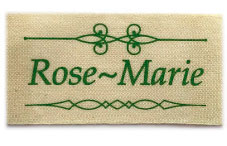 Twill Cotton Printed Labels
Custom garment labels can also be eco-friendly. At least this is one of the outstanding features of cotton.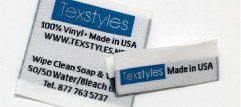 Care Labels
Add essential and useful information about your product. Be practical and give a professional touch to your cloth, garment or apparel.
Heat Seal Polyester
It's not cotton nor polyester, but the perfect combination of both. Test now this high quality option.

Printed Hangtags
Hang Tags are a great canvas to sell your clothing brand.
What Makes Printed Clothing Labels Different From Woven
Soft to touch and non-irritating to skin
Printing is either silkscreen or digitally offset
Ideal for clothing label with a simple logo or basic text font style
Able to achieve more than 5 colors
Printing is very durable to delicate wash cycles
More color options
Ideal for baby clothes, children apparel, cashmere, lingerie and/or any other delicate apparel.
Prompts an understated elegance yet professionalizes your products.
What Is The Minimum Quantity Needed To Order?
Satin Minimum: 300 Label
Cotton Minimum: 500 Label
Heat Seal Polyester, Polycotton Blend, Remay, Tyvek= min: 500 labels
I received the labels today, they are perfect! Thank you so much. Hopefully I'll be reordering soon!"


Connie Z.,

Second Chance Couture
Printed Clothing Labels – Design Guide

The Right Label Size
Too small? Too large? There are certain conventions about the appropriate size of a label, according to the product it will be on and its placement. The size of your label will greatly determine the amount of detail it will be possible (legible) on it.


About Sewing Allowances
Sewing Allowance is the padding used to attach the label to the product. The most common allowances are 1/8″ and 1/4″, depending on the product and on the seamstress. The position of the sewing allowance varies and it depends on the customer's requirements and on the product. For more information regarding sewing labels please contact directly with your sells rep.

Types of Folds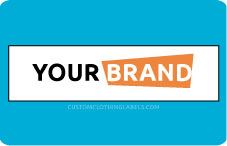 Straight-Cut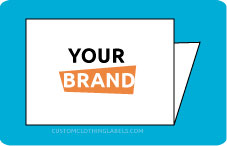 Center Fold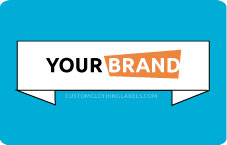 Ends Fold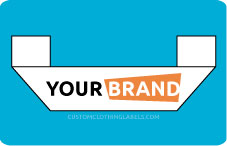 Mitre Fold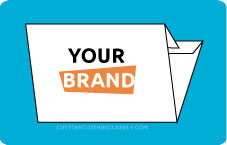 Manhattan Fold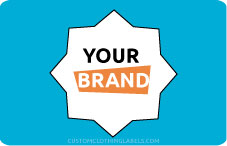 Die Cut

Most Common Fonts
Bold & simple designs work great in small sizes.
Script seems to be the most asked for font style.


Color Samples
Our thread selection is very large, we will most likely find a "perfect match" for your chosen colors.
Brown-earthy tones: off-white
Soft and sheen blacks, and other backgrounds
Bold & Bright Neon Colors
Fun and classy, metallic threads
Label color criteria.
When choosing colors for fabric labels you should take care of the contrast, the highest the contrast, the better.
If your background colors are dark, then you should choose a light text color and vice versa.

Nothing beats the softness of a satin ribbon or natural cotton label, the best option for those items that will be close to the skin, as well as small and intricate designs.
4 Easy Steps to order Custom Printed Labels:

Step 1: ask for a Quote!
Send us your custom fabric labels details. If you have your Art ready send it right to us in illustrator, that's perfect! Otherwise you can send us just a draft and we will help you with the graphic artwork without any extra charge.

Step 2: Approval
Check out your quote and say YES to your brand Labels!

Step 3: Confirmation
Approve your Art In 3-7 Business Days we will send you digital proofs for you to check. If you want to correct something this is the moment to do that.

Step 4: Fast Delivery
Approve your sample, and we will make and deliver your custom tag within 3-4 weeks (15 to 20 business day) … Share with your team your Awesome Custom Clothing Product!

Why Should you choose us?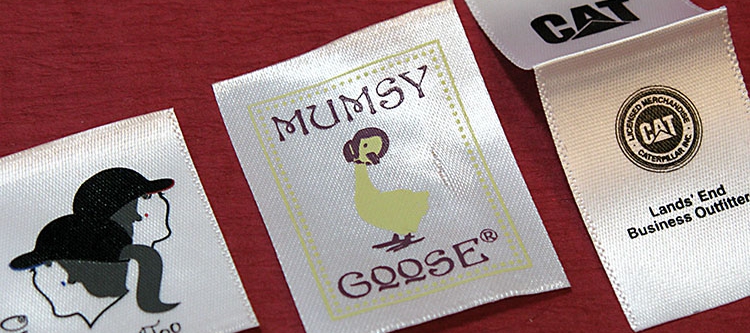 What Will You Get with Us?
Lowest price Guaranteed
Low minimums 100 Pieces Only! (minimum order)
High Quality Woven Labels
Label Experts
Affordable Prices
3-4 Week Production Time
See More Custom Garment Labels