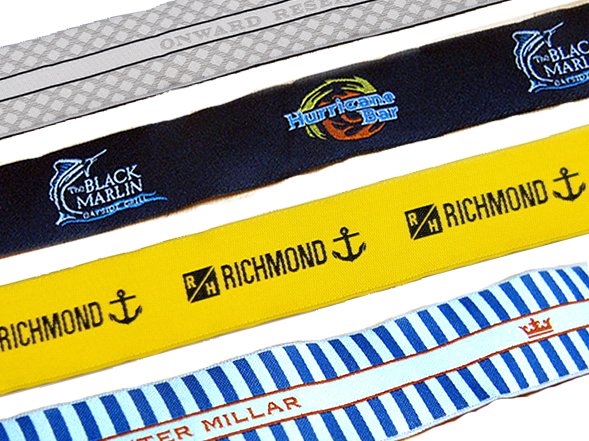 Custom Woven Ribbon Tapes
Bespoke Label Supplier
Our Custom woven ribbons are made in damask quality and they are the equivalent of woven labels on a roll. The main difference is that they are not cut.
Damask is a medium-weight fabric of polyester that is plain-woven with a fine crosswise rib effect. Damask labels work great for designs with intricate, and small detail.
Design your own Woven Ribbon with your logo!
Our team of experienced designers will work closely with you to create a custom design that perfectly captures your vision.
Sample Gallery
Whether you have a specific design in mind or need help coming up with one, we are here to assist you every step of the way. Take a look at some ribbon tapes we have made for our customers and get inspired!

Why using Custom Woven Ribbons
We pride ourselves on offering high-quality, custom woven ribbons that are perfect for a wide range of applications. Whether you're looking for a ribbon to add a special touch to your wedding invitations, to decorate a gift box, or to use as a personalized ribbon for your business, we have you covered.
Custom Ribbons are ideal for Dog Collars, Belts, and Lanyards.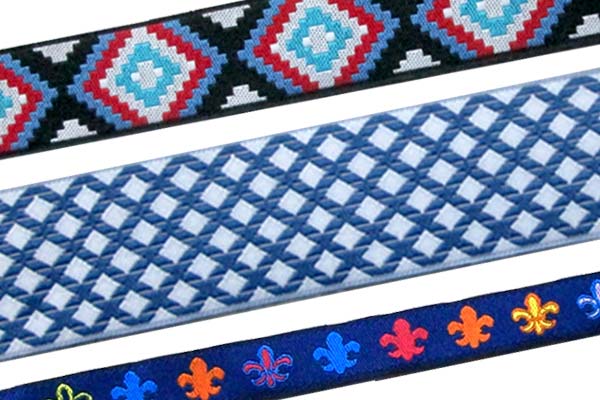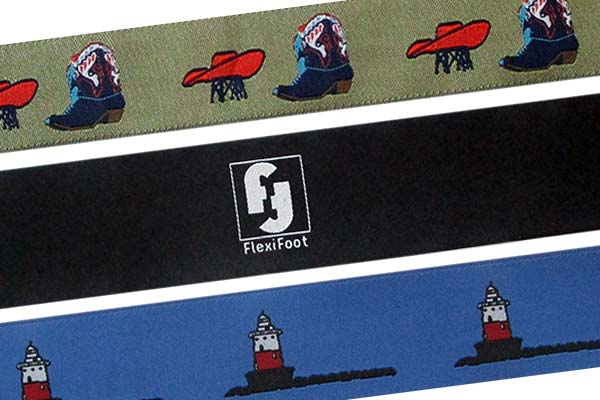 What Makes Our Woven Ribbon Tapes So Special?
We use state-of-the-art technology to create high-quality, custom woven ribbons that are sure to impress.
They are soft and smooth to the skin.
Their edges are heat-cut (or heat-sealed) so they won't fray.
Can be made in practically any height and length, custom made to fit your product.
You will be free to use as many colors as you need.
Made with polyester threads, for lasting, bright colors.
Multiple Fold Styles available: no-folds, centerfold, end-fold, miter fold, gives you versatility.
You can use a custom woven ribbon to add personality to your designs.
Or you can use a custom woven ribbon as a way to brand your products in a fun way.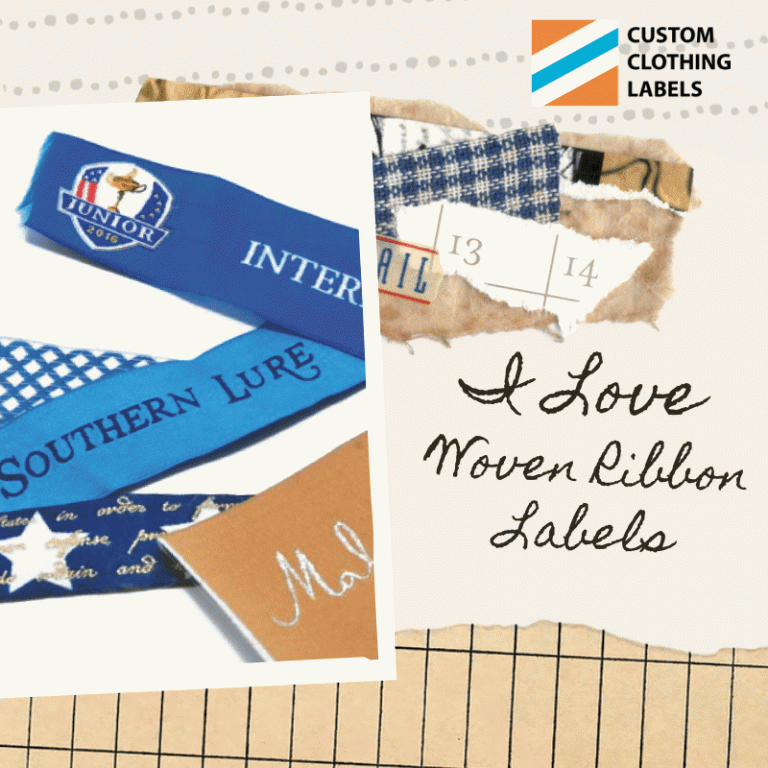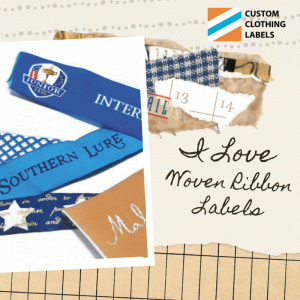 How to order Woven Ribbons?
When you order from us, you can rest assured that your order will be handled with the utmost care and attention to detail.
Customer Reviews
We take pride in delivering top-notch customer service, and we will work tirelessly to ensure that you are completely satisfied with your custom woven ribbons.
4.7/5 – Based on 23 Reviews
Woven Labels


5 out of 5 stars

02/25/2022

"We've been using Linx for our labels for a while now and their customer service is great and the final product looks awesome."

Woven Labels / Damask


5 out of 5 stars

03/22/2022

"The ordering process is so easy! If you do have a question or inquiry, the sales rep is very responsive. Love doing business with Linx!"

Woven Ribbon Tape


5 out of 5 stars

11/11/2021

"Belinda and team will make sure your order is as you wish! they review and make samples before your order go to production. Product is fantastic! Thank you so much for your work!"
Want to Find Out More About Woven Ribbon Tapes?
When you are looking for a way to take your products to the next level, you think branding. And in the world of apparel and accessories, there is nothing more than will convey 'professional' as a woven label.
Other Products