Buying Guide for Custom Clothing Labels
1-Style

We can help you make any of these styles, click here to compare them.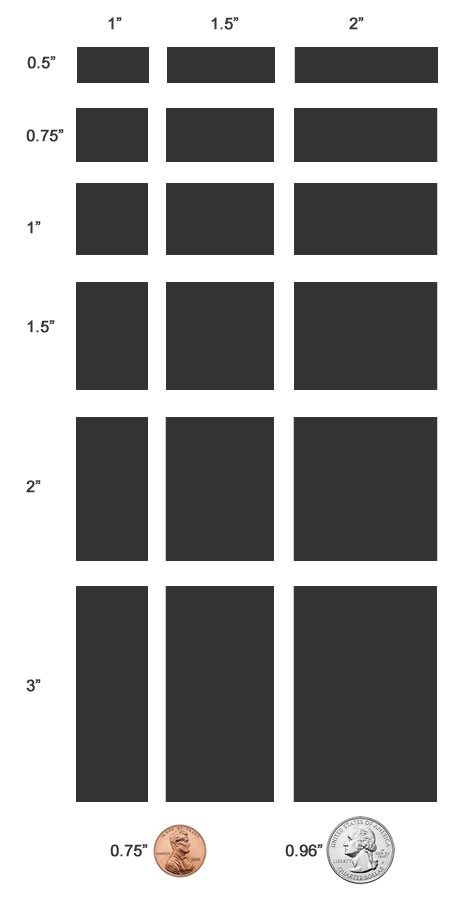 2-Size
As our name CustomClothingLabels.com states, we are clothing label manufacturers, we can make your labels on almost any size you wish. If you are unsure about which size is best for your garments, take a peek at the image below, we hope it can be useful to you.

3-Fonts for Clothing Labels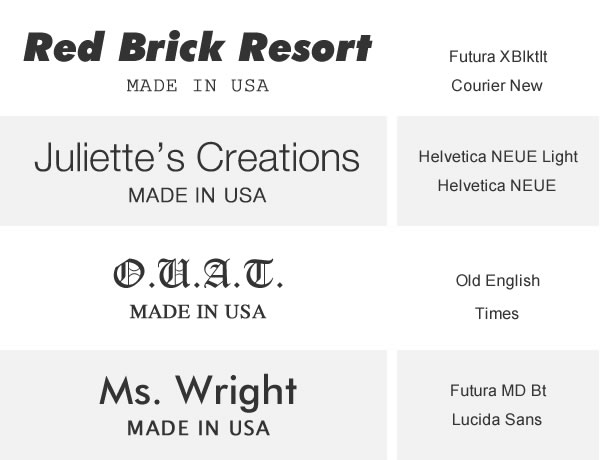 When you are creating your labels, you want to use fonts that will work well together and they will look good on a label (which is not usually that large), so we just handpicked a few of them to help you out:

Some other newer fonts we have found to work well for clothing labels are:
Bloomsbury A Beautiful Font for Branding Your Clothing Line's Labels
4-Colors
We offer our customers a large thread selection to match their desired colors. Among them we have:
Brown-earthy tones: off-white
Soft and sheen blacks, and other backgrounds
Bold & Bright Neon Colors
Fun and classy, metallic threads
You'll be able to choose any from your color chart and we will do the hard work of adapting them to the available threads.
Label color criteria.
When choosing colors for fabric labels you should take care of the contrast, the highest the contrast, the better.
If your background colors are dark, then you should choose a light text color and vice versa.

Straight-Cut
Center Fold
Ends Fold
Mitre Fold
Manhattan Fold
Cut to Shape (die cut)
6-Sewing Allowance
The term refers to the padding used to attach tags to the product. The preferred allowances are 1/8″ and 1/4″, and it varies according to the product and/or seamstress. The position of the sewing allowance can change depending on the customer's requirements and on type of product.

7-Backing Options
No matter the kind of clothing label you be working with (woven, damask, taffeta, printed or pvc) you can choose between these two backing options:
Iron on Labels
It 's true that Iron on labels are so easy to apply and an great option for those who wants to save time, nevertheless if you don't follow properly the iron pressing instructions your labels or tags could some how come out at washing machine or while wearing the cloth.
Sew-in Labels
Sewing labels to your clothe like your grammy would can be a harder work. However, it will certainly last longer. It is the safer way do so.

---
Product Labelling
Labeling your products can feel like an overwhelming task at times: On one hand you have your desire of adding a label to brand your products, which you SHOULD DO, and on the other hand you have your duty of adding size, care & content, place of origin labels to inform the buyer, some imposed by FTC regulations, which you MUST DO:
"Labels containing fiber content, country of origin, the identification of the manufacturer, importer, or other dealer, and care instructions must be present at the time the end user takes possession of the good. Labels containing care instructions must be attached permanently to the item. " Source: FTC website
So basically your product could have as many as 5 labels on it, or as little as 2, if you want to play with a combination of them, such as:
Individual labels:(1)Logo or Brand Label, (2)Fiber Content, (3)Country of Origin, (4)Manufacturer (if different than Brand) and (5)Care Instructions.
Combinations:

(1)Logo or Brand + Country of Origin Label, (2)Fiber Content + Care Instructions, (3) Size Label (if needed)
(1)Logo or Brand + Size + Country of Origin Label, (2)Fiber Content + Care Instructions
Or any combination as it fits your product.