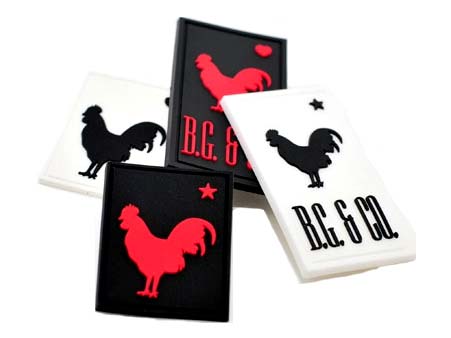 Custom PVC Labels
Make your products pop! with a soft rubber label
Soft and rubbery to the touch used for branding products of all types.
Soft PVC Labels are especially good for outdoor products and clothing.
By adding a sewing channel on the labels, they are easy to sew onto any product, just as easy as attaching a label of any type. PMS colors can be matched to your design.
Why Should you choose us? We'll let our work do the talking
pvc-labels-home
pvc-labels-goose-red
PVC Labels (95)
pvc-labels-goose-black
PVC Labels (96)
PVC Labels (93)
PVC Labels (94)
PVC Labels (65)
PVC Labels (30)
What Makes Our PVC Labels So Special?
They will withstand the elements, making them soft and smooth to the skin, yet resistant.
Sewing channel available, not extra cost, easy to sew.
Can be made in practically any height and length, custom made to fit your product.
FREE PMS Color Matching, , you will be free to use your colors.
Our price includes up to 4 colors,  for lasting bright colors.
Self-adhesive, velcro, soft magnet backings available, attaching them your own way.
Additional printing available, our production accomodates to your needs.
Your staff is very courteous and easy to work with. They respond promptly to emails and always have the answers.


Kelsey Barrion,

Spiny Lobster Stitch Works Hawaii
When you are looking to make a real statement with your brand, you want it (or need it) displayed in the outside of your product, where it will need to be strong and not to get entangled or fade with the sun and other elements, your absolute best choice is a Soft Rubber PVC Label.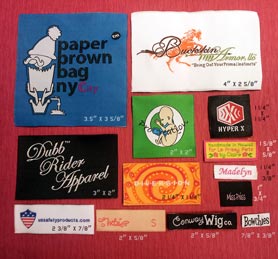 The Right Label Size
Too small? Too large? There are certain conventions about the appropriate size of a label, according to the product it will be on and its placement. The size of your label will greatly determine the amount of detail it will be possible (legible) on it.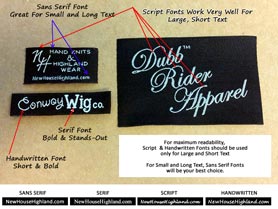 Most Common Fonts
Bold & simple designs work great in small sizes.
Script seems to be the most asked for font style.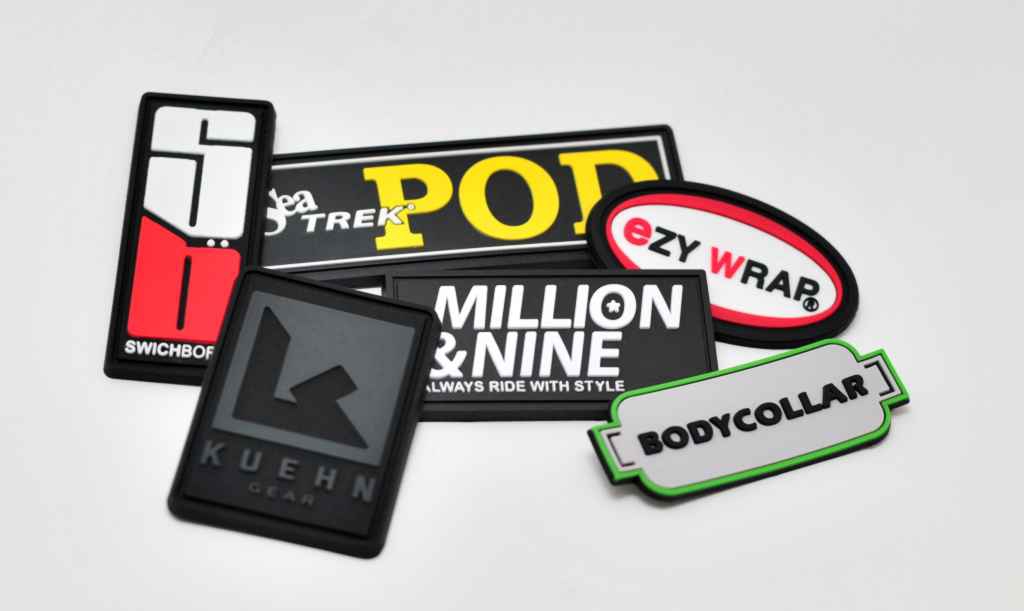 Frequently Asked Questions
Click Here to See The Complete PVC Clothing Labels Gallery
Sample Pricing for PVC Clothing Labels
Sizes
1″ x 1″
1″ x 2″"
1″ x 3″
1″ x 4″
2″ x 2″
100
$0.96
$1.21
$1.49
$1.60
$1.50
300
$0.89
$1.13
$1.32
$1.40
$1.40
500
$0.81
$0.96
$1.09
$1.26
$1.27
1000
$0.71
$0.86
$0.93
$1.11
$1.14
Mold
$65
$75
$90
$100
$90
+Additional Mold Charge Fee Applies and it depends on size of label.
+Prices are general guidelines, For a firm quote please submit request with design.
+Prices based on up to 4 colors. For each additional color, add extra $0.05/pc
+For Phtalate Free material, Translucent, Gold or Silver Colors, add extra 15% from price above
+Soft Magnet, 3M Adhesive Backing, Velcro are quoted on a case by base basis
+Printing on PVC is available, add extra $0.05/pc for each printed color and setup charge of $30 per color
+Prices based on label thickness from 1.5mm ~ 2.5mm