Why spend more money and have the inconvenience of attaching 2 different labels to your product when you can have 1 label do it all: Say hello to centerfold woven labels.

We have always been fans of minimalism, especially when we are talking at getting more value for your money.
If you are new to product labeling you might be wondering:
Why on earth would you use 2 or more labels in your products?
Do I really need to have care instructions on my products?
or… Maybe I will just print my own.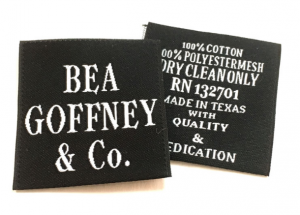 ---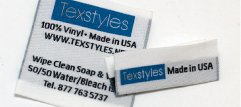 Why using Care Labels?
It seems logic but here we go!
First of all we have to state that Care labels are not always mandatory. When your product is tough and resistant maybe you wont have the need of explaining how to take care of it.
However, if that's not your case and you want to warn people about some dangerous or hazardous feature you will need to add this information some how.
For more information about care labels go to this page.
---
While there is not a single solution that will work for everyone, there is no denying that:
Branding your product with a label is A MUST.
Having care instructions on a label that is permanently attached to your products is MANDATORY.
One thing is for sure:
The amount of information you could add to a product label is somewhat large, but is not really that complicated:
Company Logo.
Company Name (or RN#).
Place of origin (Made in USA, China, etc.).
Size (OSFA, 1,2,3,S,M).
Materials.
Care Instructions.
In a future post we will discuss the different label "combos" you can use for your products.
---
But why oh why would you choose centerfold woven labels instead of straight-cut, or end-folds labels?
The main reason someone would choose a centerfold label is the ability of hiding those not so smooth ends that people always complain about: the itching, the bothering, also the ease of attaching it: just slide it thru a fold or a hem, just a quick stitches and you are done.
And why should you choose more than one center fold tag?
There is something about them, people really love these tiny little tags and their rather odd placements: in the side hems (inside and outside), at the bottom hems of t-shirts, on pockets and necks, the more the merrier!
---
Customer Reviews
Woven Labels


5 out of 5 stars

12/11/2016

"Victoria has been incredibly responsive and helpful. She gets it done and does it well!"

Woven Labels


5 out of 5 stars

09/06/2016

"First of all, Victoria is an asset to your company. She makes the whole ordering (or reordering) process go smoothly. I'm always glad to hear her on the other end of the line because I know the job will get handled properly. Secondly, all orders are high quality, high value, and quickly handled. Keep doing what you're doing and I'll keep coming back."

Woven Labels


5 out of 5 stars

06/23/2016

"Excellent customer service, willingness to work with my deadline, very satisfied with quality of product"